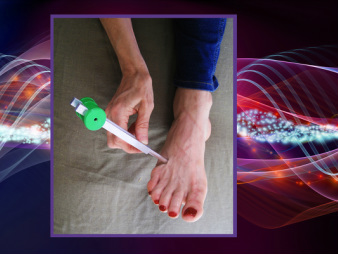 Restore your body, mind, and spirit with Vibrational Sound Healing.
Our Vibrational Sound Healing practice is modeled on the Acutonics® system developed at the Acutonics® Institute of Integrative Medicine in New Mexico, USA. Based on Traditional Chinese Medicine practices developed over the past four millennia, sound is applied to acupuncture points and meridians with precision-calibrated tuning forks. The Acutonics® tuning forks are designed to produce specific frequencies and musical intervals that create predictable and repeatable therapeutic effects. For example, case studies have shown that Acutonics® forks tuned in unison and applied along the spine help alleviate back pain, and the musical interval known as the perfect fifth can help resolve deep emotional issues.
There are literally hundreds of therapeutic applications of
the Acutonics® system, with tuning fork protocols designed
for a variety of disorders and disharmonies, such as:
chronic pain, joint/muscle pain, post-op/cancer pain

stress in both adults and children; PTSD

allergies and asthma

depression, anxiety, and addictions

digestive issues

sleep issues

wound and bruise healing

chemotherapy detoxification

psycho-spiritual issues

energy blockages

Acutonics® draws on clinical experiences and observations, scientific research, the spiritual and wisdom traditions of both Eastern and Western medicine, Jungian psychology, observational physics and astrophysics, celestial mechanics, and sound healing principles, resulting in powerful treatments that heal the body, the psyche, and the emotions.
---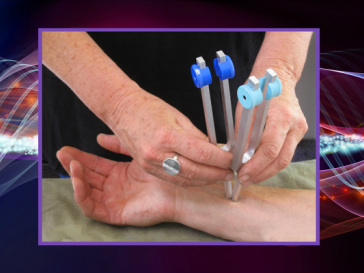 What to expect.

A session begins with a discussion of the client's concerns and reasons for the visit, assessment of the client by the practitioner, past treatment results (if applicable), short term and long term treatment goals, current treatment options and expected results. The intention is to assist the client in creating a shift from a current state of physical and/or emotional disharmony toward optimal health and well-being by means of sound therapy. The success of a treatment depends in part on the client's participation in his or her own healing process. Tuning forks are applied to acupuncture points and meridians and other points on the (clothed) body. No special dress is required, although light-weight is preferable to bulky or thick clothing. Sound also may be introduced into the treatment environment via high frequency tuning forks, Tibetan bowls, hand drums, or other instruments recognized for their salutary effects. This innovative delivery system provides painless access to the body's energy pathways, infusing the body with powerful, healing vibrations that create profound and lasting results. During a treatment, you can expect to enter a state of complete relaxation and peace.


---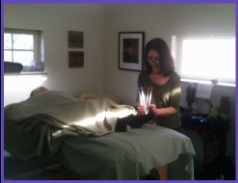 Who receives Sound Therapy?

actors, artists, astrologers, athletes, attorneys, bankers, biochemists, body workers, caretakers, computer programmers, dancers, development directors, dentists, doctors, emergency response, engineers, filmmakers, firefighters, musicians, nurses, philosophers, physicists, psychotherapists, realtors, search and rescue, singers, scientists, students, veterans, and others.

---